by Tim Ravndal
On June 8th 2021, Senate Committee on Energy and Natural Resources held a hearing President Biden's nomination of Eco~Extremist Tracy Stone-Manning to be Director of the Bureau of Land Management.
Tracy worked as Regional Director for U.S. Senator John Tester from 2007 to 2012; as Acting State Staff Director and Senior Advisor for Senator Tester in 2012; as Director of the Montana Department of Environmental Quality from 2013 to 2014; as Chief of Staff to former Montana Governor Steve Bullock from 2014 to 2017; and as Associate Vice President for Public Lands at the National Wildlife Federation from 2017 to 2021.
Many questions regarding the direction Tracy would lead the BLM that controls approximately 245 million acres that includes 65 million acres of forested lands. With an eco~extremist record, funded by and supported by well known democratic players the answers given by Tracy to the Senate Committee lead to more questions.
Questions from the committee were placed on the table and many questions regarding the positions held by Tracy as the nominee to direct BLM into the future were asked. The 57 pages of questions with political doublespeak answers is extensive and can be observed in its entirety here.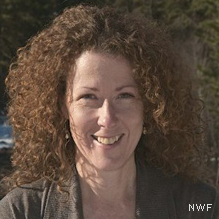 Tracy has a long history of joining the eco~extremism movement, including participating in protests against forest management policies and associations with "Earth First."
Tracy was summoned by the USFS law enforcement to testify as to her part of the 1989 tree spiking incident on the Clearwater National Forest. Tracy denied having participated in a tree spiking incident, but a judicial agreement was reached through her attorney to seek immunity in the case.
When asked about her associations with other eco~extremists in Missoula, Tracy readily pulled the "Do Not Recall" card in her answers to the committee. Many high level activists were working out of the "Sherwood House" at the time Tracy arrived in Missoula. She readily denies working with any of the eco~extremists or having associations with specific eco~extremists named by the committee.
A funding question was raised where Tracy in1988, documented a loan of $100,000.00 from a high level eco~extremist businessman in Missoula. This funding source is well documented in the democratic stronghold of Missoula,promoting and funding eco~extremism for many years.
Dark Money
It is ironic that today the democratic party in Missoula is on the front lines claiming "Dark Money" must go away. A loan of this size to be made without any documents including not having a contract raises questions. A verbal contract on the loan is all that existed to facilitate the politically founded loan according to Tracy.
As Vice President of National Wildlife Federation, Tracy openly criticized William Perry Pendley's record, as the BLM Acting Director. Mr. Pendley has been on the front lines fighting eco~extremists in the courtrooms across America. The fact that Tracy has lobbied extensively for environmental preservation, it appears there is a direct conflict with her statement that: "…the BLM should have a director who believes in the Bureau's multiple-use mission."
Energy Production Under Attack
Tracy openly opposes with hostility towards American energy production. As recently as September of 2020, Tracy stated:
"What does an "energy dominance" agenda look like? Offering up #oil and gas leases in all the wrong
places, like Moab, UT, & on the edge of Great Sand Dunes NP. We should treat #public lands like
they belong to all of us"
The expansion of already existing exclusion areas for natural resource production across the west is highly documented showing that political double speak is a regular practice in the political ladders across America. The use of the term "Conservation" is regularly used to cover the intent of "Preservation."
Political doublespeak was delivered to the committee in Tracy's answer regarding the Keystone Pipeline. Openly keeping the door open on the methane gas fears lobbied by eco~extremists, Tracy is keeping that door open in her answers.
Nominee Supports Climate Change Control
When asked by the committee a question about climate change, Tracy responds with the standard eco~extremist response to the call to stop fossil fuel discovery and production in America :
"The President has been clear in his call to create jobs and address the climate crisis through the
development of a clean energy economy, and I know that the Department will play a large role in that effort…"
Many elected officials have a seat at the table in this decision and it is important that they look at the full story before the next leader of BLM is chosen. Here in Montana the future management of natural resources and access to public lands for the beneficial use of natural resources by all the people is at stake. Local economies across Montana are highly dependent upon natural resources.
With the current onslaught of wild fire the need for a conservative based leadership is eminent for the health and safety of the people of Montana. Many we talked to are asking that the forested coalition of counties, join Senator Steve Daines in opposing the nomination of Tracy Stone-Manning.
Not surprising to see Senator Tester openly support the nomination of Tracy. Senator Tester himself purports to support multiple use of public land resource development. The truth here is part of Montana Legislative history and congressional record going back over 20 years. Those in the mining, logging, ranching and farming industries we spoke to are urging everyone to contact Senator Tester and ask him to withdraw his support of this nominee.
Editors Note: BLM is the acronym for "Bureau Of Land Management"… Not black lives matter.
The views, opinions, or positions expressed here by the authors and those providing comments are the recordings of the individual rights of the people.  Some comments, opinions or positions posted here may not agree with The Conservative News From Montana.  We will do our best to provide a venue for the people of Montana to have your voices heard.  Social Media, including Facebook may not want your position heard so Please take a moment and consider sharing this article with your friends and family. Thank you