Photo From Oregon By Redoubt News
In the past, a cause would generate public participation at the local level with local concerns being brought forward. The people would find ways to bring focus to their cause in communities on their own. A historic Montana action plan turned tyranny on its heals. Retired Montana Sheriff Jay Printz Joined Retired Arizona Sheriff Richard Mack and Set a SCOTUS precedence with a case protecting the rights of the people. The rally call across America against the 2nd Amendment was set on its heals by two elected officials supported by those they work for.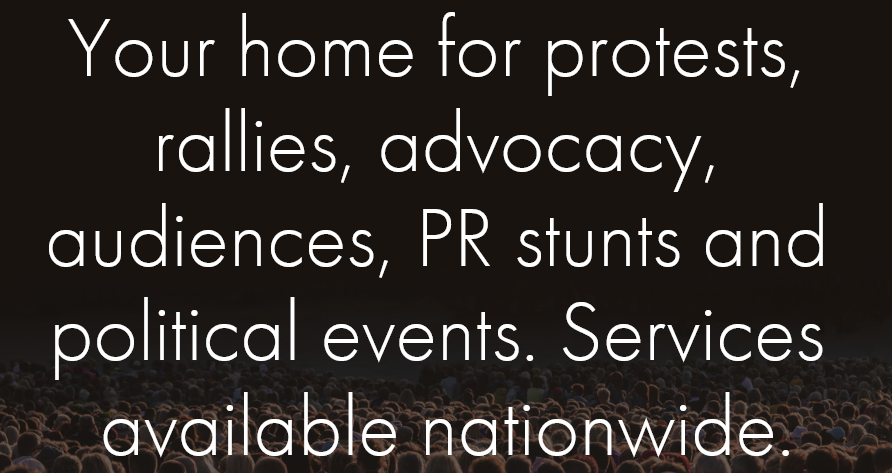 Printz v. United States decided in 1997, placed the federal government in it's place. The case clearly provided the people of Montana a message of relief by stopping the usurpation of power outside the Constitution by the federal government. Showing the people courage and resolve, set precedence fro the whole country. This case gained national attention and provided the example needed for the people to be engaged at the local government level.
Across America there are ongoing campaigns that are making headlines. Like the plandemic and many social issues across America the question of organization and funding comes front and center. We have found information worth sharing regarding what is going on behind the curtain. It is evident through the BLM actions, health care, and other regulatory actions by government equate to just a small part of the overall action plan in place. It is not surprising that an organizational action plan is not only in place, but for sale.
Enter the age of technology and tyranny has a whole new war chest at their disposal. It is often discovered that some protests and rallies that take place in communities across Montana are driven by a well funded machine that very often is based somewhere outside of Montana.
The past few years, we see groups like "Mom's Demand Action" as a good example of orchestrated demonstrations. This group well funded when they entered Missoula to stand with the government against citizens that enjoy the Second Amendment rights here in Montana.
Citizens across Montana have asked where do these organized protests and demonstrations originate, where do they get their funding and how do they find their way into communities right here in Montana. In looking into that question, we came across a technology phenomenon that has taken capitalism to a whole new level.
"The ultimate guerilla lobbying and government relations firm"
Crowds On Demand capitalizes on the new generation of citizens that use technology to bring forward their social issues. This process provides resources to effectively impact the immediate cause. The services they are marketing range from single events to what is now common as "MULTIPLE CITY CAMPAIGNS" while boasting: "We have the resources available to achieve your goals. Our headquarters are located in Beverly Hills, CA with an event operations center located in the suburbs of Dallas, TX."
Hire Demonstrators
We found in their social media presence a snapshot of what "Crowds On Demand" do: "Are you looking to create a buzz anywhere in the United States? At Crowds on Demand, we provide our clients with protests, rallies, flash-mobs, paparazzi events and other inventive PR stunts. These services are available across the country in every major U.S city, every major U.S metro area and even most smaller cities as well. We provide everything including the people, the materials and even the ideas. You can come to us with a specific plan of action and we can make it happen. OR, you can approach us with a general idea and we can help you plan the strategy then execute it."
It appears that the organizational impact is very well funded and operationally ready: "We've made campaigns involving hundreds of people come to action in just days. We have a proven record of delivering major wins on even the toughest campaigns and delivering phenomenal experiences with even the most logistically challenging events."
Crowds On Demand claim they have offices positioned to execute their operations with as little as 24 to 48 hour notice. In more remote areas it is a challenge but the organization claims they can be on scene within 72-96 hours to organize in rural or what they call exurban locations across the United States. What is an "Exurban Area"? —–"a region or settlement that lies outside a city and usually beyond its suburbs and that often is inhabited chiefly by well-to-do families" ~ Websters Dictionary
The leader behind Crowds on Demand was founded by Adam Swart in October 2012 to revolutionize the 'people' business. Mostly unknown here in Montana and across the West, but the organization has a highly advertised presence before students across the country.
Organize Rally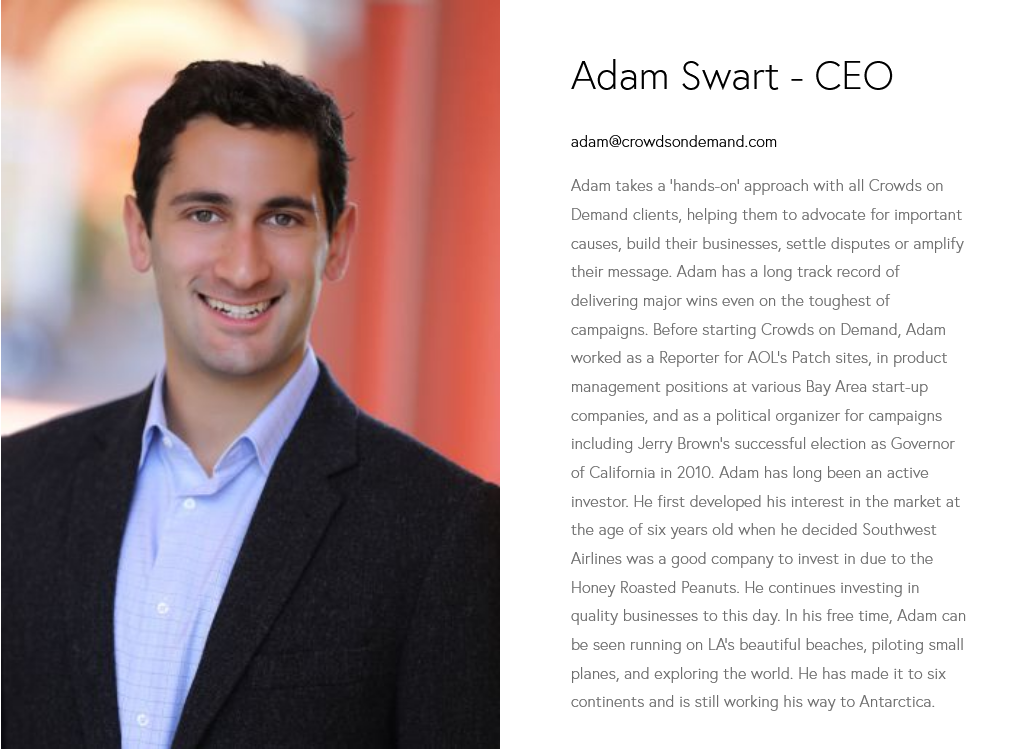 The organization is far reaching and does not focus on a single issue or cause. The push is to influence healthcare, financial, energy or other social initiatives, including but not limited to union protests, political campaigns, and cause we can organize rallies and get media attention for your causes and candidates. We also assist individuals, companies and political organizations with protests and picketing campaigns. We've protested governments, corporations and everything in between.
We've achieved results on campaigns on everything from ending institutional discrimination in a religious organization to getting refunds and compensation for hundreds of homeowners who bought hazardous land from a real estate firm to forcing a patent trolling company to back down. We have gotten tough energy projects approved from oil to natural gas to wind and solar. We are frequently called upon to address Real Estate issues that, while (in many cases) not heavily covered by the media, are relevant to stakeholders and depend heavily on public opinion. Some of these campaigns are long and drawn out while others can be resolved quickly. Regardless, we endeavor to deliver campaigns that bring out the best qualities of our clients' messages and to achieve tangible results.
If you need to hire protesters, we can get a crowd on the street, sometimes within 24 hours time. If you need speakers to present at a council meeting, we can provide talented and well-spoken individuals to advocate for the cause. We also have a dedicated team of phone-banking staff who can call Congressional Offices and convince government officials to support your cause and help you overcome opposition. If you need lots of letters and emails written from constituents, we have a network of tens of thousands of individuals across the country who can send well-written constituent letters to their representatives.
The organization regularly lobbies government to pass or defeat legislation. They use multiple different tactics to get approval of projects, and influence government. A foreign government hired Crowds on Demand to help generate a positive reception for its newly elected leader during the UN General Assembly. Direct impact on the elected officials of Montana was seen by the recent changing of the guard with the United Nations.
We found that there are many tentacles that reach not only into local and state government offices, but local community organizations by using the enticement of funding that is always in short supply at the local community level. As with all funding, there are always strings attached.
Follow The Money!
The views, opinions, or positions expressed here by the authors and those providing comments are the recordings of the individual rights of the people. Some comments, opinions or positions posted here may not agree with The Conservative News From Montana. We will do our best to provide a venue for the people of Montana to have your voices heard. Social Media, including Facebook may not want your position heard so Please take a moment and consider sharing this article with your friends and family. Thank you