Shared From Idaho Cold Cases
"On Monday, July 9, 1973, at approximately 7:42 p.m., the body of a young woman was discovered near the river's greenish-bluish shoreline, a sunny, radiant sky above.
The falling rays of the evening sun streamed through the trees off Milligan Road, lighting a wooded area of trees and bushes where, about 15 feet from the edge of the tributary and several steps from the road, a local man spotted a heavy, awkward lump in the ankle-high scrub.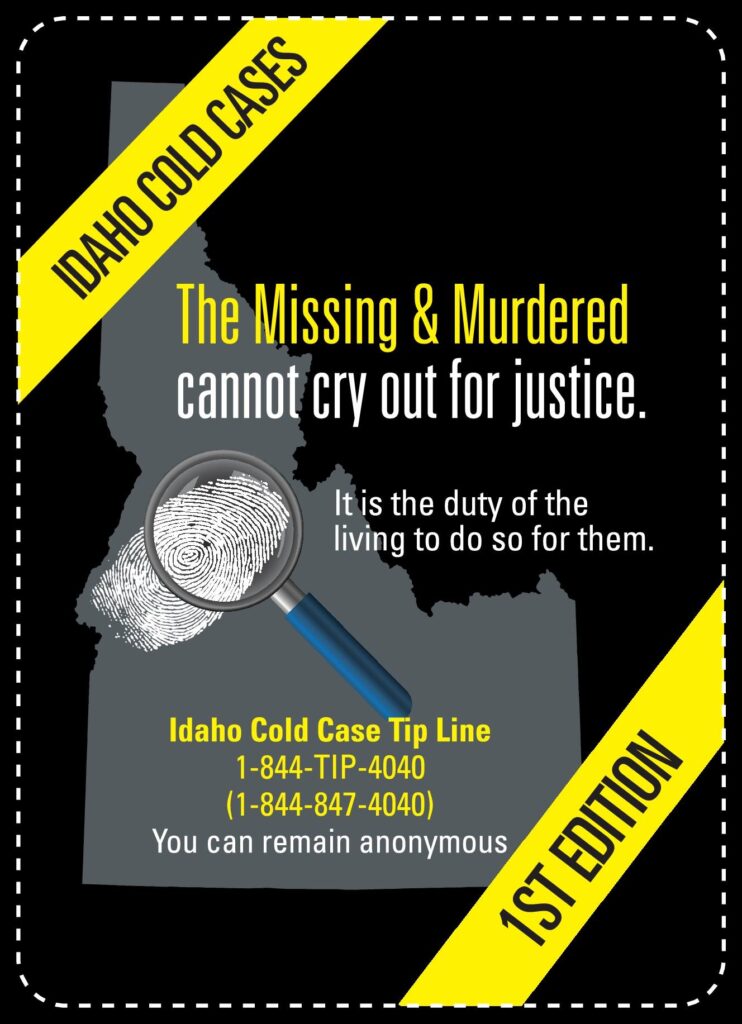 Closer inspection revealed the bloody and begrimed features of a prostrate Caucasian female with light brown hair, dark frame glasses, about 5 feet, 7 inches tall, and weighing about 110 pounds. Though fully clothed, the body was an unsightly mash of cuts, slashes, and bruises, emanating the metallic tang of caked blood.
Her throat cut, she bled to death after the main artery in her neck was severed. *************As is common procedure in a murder investigation, police probed Donna's relationship history; there was no husband to question, though she had date casually over the years, and was seeing a man named Gary Scheidecker at the time of her death. Scheidecker, who worked as a security guard at Big Sky Resort in the summer of 1973 and later worked at the Gallatin County Sheriff's Office, says that to the best of his recollection, he was away on military leave at the time of Donna's abduction.
Though police reports place Scheidecker and his friend Ric Brown at the same rodeo event that Donna attended the evening before she was last seen, Scheidecker says that doesn't recall the exact day or time that he last saw Donna.
"It was a while…it might have been sometime before she died, I don't know," says Gary Scheidecker. "I was interviewed by the FBI right afterwards. I don't remember much about her. All I know was that she was supposed to meet a friend after stopping at Stacey's."
There was also one local Gallatin Gateway man around Donna's age who seemed to be especially obsessed by her. Police identified and honed in on him and even members of his family, though none have ever officially been charged in connection to the crime.
******************"I would say that she was likely killed in Idaho Falls," says Detective Mike Hammer. "There is no reason to believe that she was leaving to come to Idaho Falls or it was a destination. It's likely the killer or killers were in the car when she got to Idaho Falls. Nothing says that it had to be one person or that it wasn't more than one… There was just enough decomposition and bloating that would hide some of that stuff that we would be very interested in knowing." Hammer refers to DNA technology, namely the partial samples collected from the Mustang almost a half century ago, that might be able help unravel the secrets shrouding Donna's murder.
**********************Read up here on newly released timeline details of Donna's last day. https://www.montanapress.net/…/unsolved-montana-who…Thank you Brian D'Ambrosio and the Montana Press Monthly for tackling this story! How did she end up in Idaho Falls?Contact: Bonneville County Sheriff's Office, Crime Stoppers Idaho Falls – Bonneville County, this page, or the Idaho Cold Case Tip Line (844)847-4040 if you are ready to talk."
The views, opinions, or positions expressed here by the authors and those providing comments are the recordings of the individual rights of the people.  Some comments, opinions or positions posted here may not agree with Montana Viewpoint.