Opinion By Tim Ravndal
On November 3rd 2020 my day began as normal @ 5am. On this particular day I was pleased to be living in a county where my right to vote was not infringed by government actors or was it? I along with multiple other citizens from Broadwater County answered the call to serve our fellow citizens in this very important election. I take this time to personally thank them.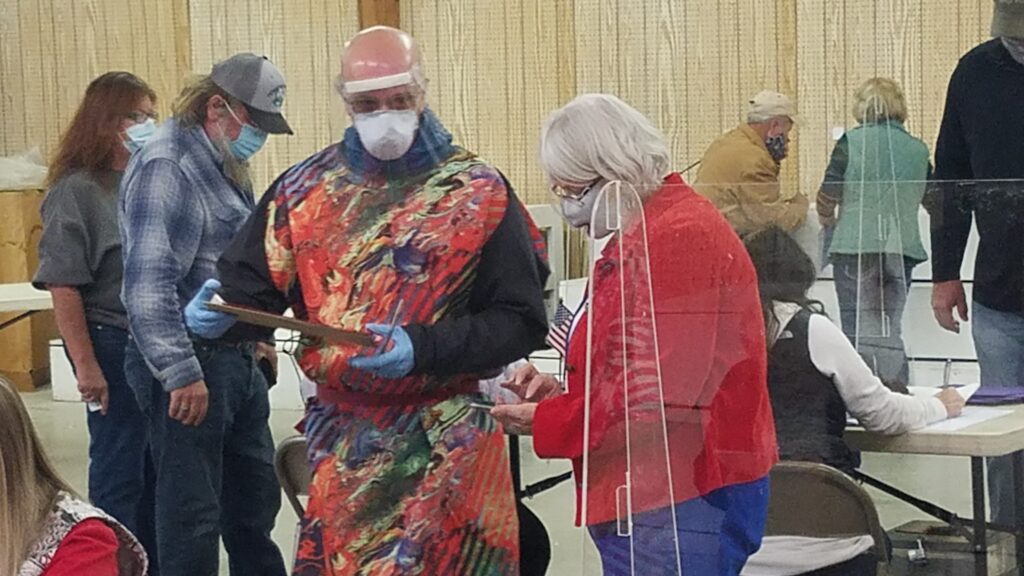 Several certified election judges decided that this election under the plandemic lockdown was not in their best interest. They chose to stay home rather than exposing themselves to the public. That is a personal choice and I along with most citizens in a free country agree with that personal choice.
General Election Challenge
I arrived at the Broadwater County Fairgrounds a few minutes past 6am ready to serve our Election Administrator Doug Ellis as needed. I committed to the whole day as I knew that the call to duty was very important. Many friends I spoke to leading into the election, were pleased to hear I was going to serve not only as an election judge but as a fellow patriot. I was ready and willing to keep a watchful eye on the election process.
After greeting a few friends I made a point to make contact with Mr. Ellis to determine what judge position he would like me to serve. Nothing was prearranged so judges were placed where needed to properly conduct the election. Before I was able to talk to our elected official, I was met and directly challenged for not having a mask on. The hired contractor serving as Broadwater County Sanitarian Shawn Rowland stated that I was required to wear a mask. I advised him that I was not and that I would not wear a mask. I understand that my position as an election judge would require me to respect the citizens and their rights so this was a tough call.
I made a decision that If absolutely necessary and if requested by a citizen exercising his/her right to vote, I would cover my face with a face shield. I willingly placed the shield at the ready in the event that my ability to exercise my right not to wear a mask was challenged. The doors to the voters opened for business at 7am and the 2020 Election was on.
Several other election judges elected to not wear a mask or a shield. As the day wore on the decision to exercise the right to choose spread and additional election judges that began the day wearing a mask removed them. I am confident that there likely is at least a few citizens and/or government employees that complained about non-compliance with Governor Bullock's directive. I must say that when the polls closed at 8pm I personally never received one complaint nor did Mr. Rowland return to exercise his purported authority over me.
One very important point about elections that I want to make sure I cover here is the law. It is certainly important in these trying times to ensure that our election process is followed with integrity. I swore an oath to the United States Constitution and the Constitution of Montana as an Election Judge. This brings me to the point of taking a look at the election laws of Montana. As a certified election judge I am required to follow the law and if I violate any part of election laws, I would be held accountable under the law.
As an election judge we are given the election judge handbook that covers the process to open and hold a fair election. This training program pursuant to 13-1-203MCA is required to be provided by the county election administrator. I took my first training course in Broadwater County in 2012 and remained certified by re-certifying every 2 years. My certification would have expired this year and because of the covid lockdown, I was not notified when the certification class was provided.
I went to Doug Ellis to seek a reason why judges needing to be re-certified were not called. I was advised that there was a shortage of judges and that if he could garner enough interest, he would hold another class. On the Friday before Election Day, I was called and advised there was a re-certification training being held on that night. With excitement I called a few friends and let them know that there was an opportunity to serve. On behalf of our local government I apologize for not having a full disclosure of this opportunity to serve in advance of the required training.
As this is getting long and may be causing drowsiness in those taking the time to read my take on what happened, let me get to the root of why I decided to write this oped.
Back in June I witnessed a tragic interference in our election process here in Broadwater County. Officials of Broadwater County disregarded the laws governing elections and the peoples rights were directly violated. The courthouse where ballots can and are normally dropped off was under lock and key. Citizens that chose to vote early or register were met at the door by a guard keeping people out of the building. This is a direct violation of election laws and falls into intimidation of voters. I witnessed several voters attempt to vote but left with their ballots in their hands.
On a Monday before the primary election day I took my ballot and my wife's ballot to the courthouse to be deposited in the locked ballot box used by the county. When I approached the election administrative office I was immediately told to leave. I asked to be afforded the right to deposit my ballot in the box that was no where to be seen. Finally one of the employees pulled the lock box from under her desk and placed it on the counter. I showed both ballots I had in hand and dropped them in the box. I was not questioned why I had two or asked for any identification, but rather was promptly told to leave the building. It turns out that the employee in control of the lock box was also on the primary ballot as a candidate. This was clearly a direct violation of election laws. I filed a complaint on this with the Secretary of State of Montana as a direct violation of law, and to this date I have never received a response from Mr. Corey Stapleton. Citizens from across Broadwater County also had similar experiences of intimidation and saw the lack of integrity in our primary election. The next day, the officials of Broadwater County took the calls for integrity seriously and placed a couple election judges in the entryway of the Courthouse to greet voters with the box in place for voting.
On November 3rd 2020 Mr. Rowland took his duty to the Governor of Montana to a new level. He placed a couple chairs out in front of the polling place with signs taped to them stating "masks required". This notice is purportedly in compliance with the directive from Governor Bullock but does not consider the legal exemptions associated with the Constitution of Montana and Montana law protecting the rights of the people.
There is a practice in Montana on elections to take an order from the Montana Secretary of State to canvas a check on each county election. In that process a precinct and a delegated selection of ballot items are checked against the reported election results. In Broadwater County, votes cast in Precinct 13 were pulled and recounted. The recount done manually by election judges was done on 3 ballot choices. 1 was the House of Representatives Race, 2 was the Superintendent of Public Instruction Race and 3 was the results of LR130.
The recount must be within 5% of the recorded vote for that precinct. We spent 6 hours with 6 judges to verify the results on this election and the test passed here in Broadwater County. We found 3 ballots that had too many choices checked which voids the choice in that race.

Broadwater County Commissioners did a complete canvas on the results of the election on Monday November 16th 2020. Any irregularities or questions on the results could trigger another recount if needed. The checks & balances in the election system are in place to protect the rights of the voters and our freedom. Stay tuned for the results on the canvasing and certification of the election here in Broadwater County.
I am happy that I was given the opportunity to ensure that our election process afforded the citizens to vote at the polls even though there was high levels of interference imposed by officials that fear the plandemic. As a Broadwater County Election Judge, I will continue to stand for the rights of the voters without fear.
In Liberty
Tim Ravndal Townsend Montana
The views, opinions, or positions expressed here by the authors and those providing comments are the recordings of the individual rights of the people. Some comments, opinions or positions posted here may not agree with The Conservative News From Montana. We will do our best to provide a venue for the people of Montana to have your voices heard. Social Media, including Facebook may not want your position heard so Please take a moment and consider sharing this article with your friends and family. Thank you.